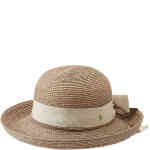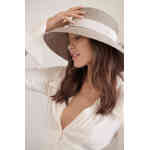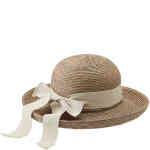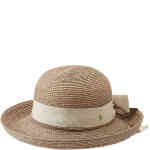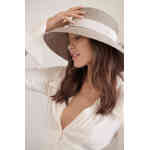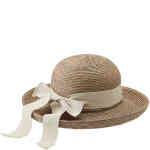 Newport SB Eclipse Melange Raffia Hat
Ever so flattering and very pretty, for me this hat is all about the ribbon. Plus the fact that she has a sun protection factor of 50+ – and who doesn't need that in their lives ???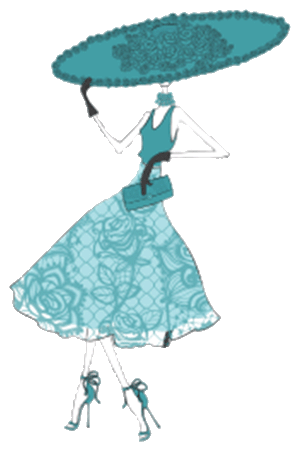 Loading...
Product Description
The Helen Kaminski Newport SB Eclipse Melange Raffia Hat is a lightweight silhouette with a 9cm brim that can be styled up or down. Features an Italian grosgrain ribbon, under which is a hand rolled raffia string tie for adjustments and a neoprene brand on the inside (sits on the forehead) for comfort. Taking over three days to make, with over 20,000 stitches of sustainably harvested Madagascan raffia, the Newport displays the true art form of artisanal hand craft with subtle variations being unique to each hat. 
Round crown with turn up brim
Brim length 9 cm
Neoprene inner band
Grosgrain Italian ribbon
Hand rolled raffia string for adjustment
UPF 50+ – sun protection
Details
Brand
Colours

Eclipse Melange (grey)

Dimensions

Brim is 9cm
Head size is 57.5cm. Can be adjusted in by 1-2 cm

Sustainability

100% sustainability harvested raffia
Composition & Care
Outer fabric composition: 100% Natural Raffia
Inner fabric composition: Unlined
Raffia has a natural resin making it innately soft, supple and resilient; Unlike straw, raffia has longevity and won't crack or get brittle over time. 
Refreshing & Reshape
Applying light steam will draw out the resin and help bring back its shape. Stuff the crown with colourless, acid free tissue paper first, and use your hands whilst it is drying naturally. The resin might be visible when you steam darker coloured raffia. Simply brush it off with a soft dry cloth or brush once dry. Allow to cool and dry naturally in a well-ventilated area out of direct sunlight.
Maintenance
Trim small fly away fibres with a sharp pair of scissors.
Spot clean with a soft damp cloth, mild detergent and cold water. Allow it to dry naturally in a well-ventilated area out of direct sunlight. Consult a professional dry cleaner for stain removal. 
Do not wash. Do not bleach. Do not dry clean.
Handling
Always hold hat by the inside of the crown, rather than the brim.
Avoid placing hats with brims that point down on a flat surface as this will cause the brim to lose its shape.
Delivery & Returns
{{ reviewsTotal }}
{{ options.labels.singularReviewCountLabel }}
{{ reviewsTotal }}
{{ options.labels.pluralReviewCountLabel }}